PRODUCTS
HOT PRODUCTS
Contact Us
KW600 450m Depth Hole 168-350mm truck mounted Portable Crawler water well drilling rig machine
Overview
Borehole drilling rig Drilling Program
1. Open the intake valve;
2. Push the joystick, the turning moves to the top of the carriage;
4. Make the boom raised to a maximum height;
5. Adjust the slider to the desired position;
6. Compensation cylinder manipulate the carriage extends the tip locator fall drilling locations;
7. Adjust the oiler needle until seeing oil droplets in the drill head office so far;
8. Slow downward movement rotary, so that the impactor to rock drill head contact surface, while the impact of the
angular position of the handle onto the right amount of drilling;
9. Rock hole forming, will impact the joystick pushed to the limit position for an official drilling work.
DTH Hammer of drilling rig Loading
1. When the rotation is down to the lowest point, the lifting rotary, so the wrench on the flat side of the drill rod wrench unloading can be inserted at the position, stop turning and feeding, closing impact pressure gas;
2. The loading and unloading drill rod wrench into the flat side at the drop rotary, so that unloading rod wrench to the front Locator drill bushing;
3. Reverse rotation, unloading stopper rod wrench impact on the rail, loosen up and down the drill pipe joints;
4. Let the rotary turret side edge slow improvement, until completely loosen joints and drill pipe, then drill rod wrench hanging by unloading to the front locator;
5. Grease the threads to drill, drill pipe with a threaded protective cap covering;
6. Under a drill to screw grease;
7. The drilling rig is placed on the tip locator at the top of the drill pipe and the axis of rotation is substantially aligned;
8. Push shocks handle the drilling pipe with the pressure of wind blowing clean;
9. Remove the protective cap on a drilling pipe thread, the blowing of the drill pipe into the female end of the sleeve on the male end of a drill pipe;
10. Circulator slow decline, while the slow forward, and the axis of rotation alignment drill, drill until tighten up;
11. Gently lift the rotary, rod wrench to remove the loading and unloading;
12. At this point, Arbors completed. KW600 used Rotary borehole drilling well.
Specifications of KW600 Multifunctional Drill Rig of Geothermal well:
KW600 Technial Parameters

Model of drill rig

KW600

Drilling hardness

f=8-12

Drilling diameter

Φ168-350mm

Maximum depth of drilling

450m

Weight of complete vehicle

9500KG

Ground clearance

280mm

Climbing capacity

15°

DTH hammer

K5,K6,K8

Air consumption

16-73m3/min

Supporting power

YC4A150-T300 /Yuchai YC4A150-T300

Power parameters

113KW/2200r/min

Travelling speed

0-2km/h

Rotary torque

8500N·m

Rotary speed

76-123rpm

Lifting method

Oil cylinder-leaf chain

Rated lifting force

150KN

Feed stroke

3m

Advancing speed of sliding plate

6.7-49m/s

Lifting speed of sliding plate

3.3-24m/s

Volume of hydraulic oil tank

400L

Volume of diesel oil tank

150L

Drilling method

Down-the-hole hammer or mud, etc.

Supporting drilling rod

Φ89×3m or Φ102×3m /Φ89×3m or Φ102×3m

Outer dimensions

7300×2250×2750mm
The KW600 multifunctional drill rig of geothermal well is an improved device.
Equipped with the Yuchai four-cylinder engine (China III), the drill rig meets national standards for emissions and environment.
Meanwhile, the hydraulic system, supporting configuration and appearance, etc. have been optimized, thus improving the performance and working efficiency.
The double rotation motor increases the rotary torque and revolving speed.
1.The pictures about KW600 Multifunctional Drill Rig of Geothermal well:
2.The detailed about KW600 Multifunctional Drill Rig of Geothermal well:
3.Spare parts for borehole drilling rig:
4.Recommended Diesel engine Screw Air Compressors: Kaishan LGCY-31/25 ; Kaishan LGCY-33/25;
Note: Air compressor selection subject to hole dimameter and air hose length.
We are located in Zhengzhou City, Henan Province, the Central area of China with convenient transportation access.
All of our products comply with international quality standards and are greatly appreciated in a variety of different markets throughout the world.
We now have over 100 employees, an annual sales figure that exceeds USD 10 million and are currently exporting 45% of our production worldwide.
1.Production Equipment: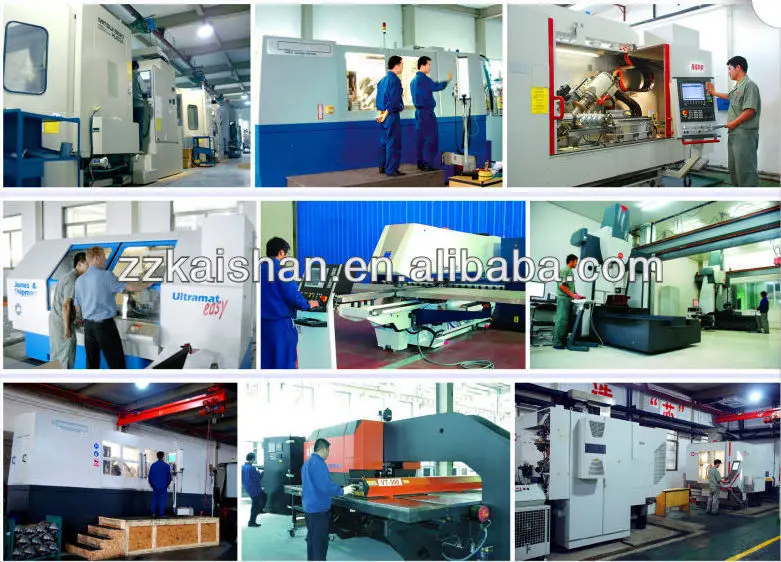 2.R&B Center and Team:
Q1: Are you a manufacturer?
A: Yes, we are a professional down the hole drill rig and top hammer drill rig manufacturer.
Q2: What does your company produce?
A: The main products of our company include blasting drilling rig,water well drilling rig and all kinds of air
compressors.
Q3: How about your delivery time?
A: Normally the delivery time is about 7-15 days. For some special case, we can make it within 2 weeks, it depends
on different products.
Q4: What methods of payment do you accept?
A: We accept T/T, L/C.
Q5: Do you offer any deals or discounts?
A: Yes, price depends on different quantity, different quantity will give you different price.
Related Products