PRODUCTS
HOT PRODUCTS
Contact Us
Add:No.169 Nanyang Road, Huiji District, Zhengzhou, Henan, China.
Tel: +86-371-60981935
E-mail:
lgdrill@hotmail.com
skype:
ZT10 Kaishan Upgraded 32m Depth Diesel Hydraulic Rotary Blast Hole Mine Drill Rig with Air Compress
Overview
The ZT10 integrated down the hole drill rig for open use is a new drilling devicedeveloped by KaishanGroup after years of development and production of down the hole drill rig to meet the needs of large open-pit mines. Its travelling, propulsion, rotation and angle adjustments are based on hydraulic drive, thereby proving its powerfulness. The high air-pressure screw nose and high air-pressure pneumatic Hammer contribute to efficient drilling. It is equippedwith the dry hydraulic dust collector, thus reducing pollution. The hydraulic mechanism is used to dismountthe drilling rod, the floatingjoint to protectthe thread of drilling rod, the automatic unloading rod deviceto relieve labor intensity, the air-conditioned cab provides comfortable space and the anti-Jamming valvewith automatic controlreduces the possibility of sticking. And what is more, the drill rig is characterized by excellent integrity, high automation, efficient drilling, environment-friendliness, energy conservation, simple operation, flexibility and travelling safety, etc.
1. Has a strong climbing ability and adaptive to the rough pavement.
2. Adapt to a wide range, can be furnished with various types of DTH impactor, can drill different diameter and different depth in variety of position and angle.
3. Also can be furnished with dry or wet dust collector when working, effectively reduce dust pollution to the environment, and protect the worker.
4. Anti-jamming system, safety operation.
5. Crawler type undercarriage with track oscillation system.
Specifications of ZT10 Integrated Down the hole Drill Rig for open use:
Technical Parameters

Transport dimensions (L×W×H)

9000*2360*3000mm

Weight

15000Kg

Rock hardness

f=6-20

Drilling diameter

105-130mm

Ground clearance

430mm

Leveling angle of track

±10°

Travelling speed

0-3Km/h

Climbing capacity

25°

Traction

120KN

Torque

2500N.m

Rotation speed

0-120rpm

Lifting angle of drill boom

Up 47°, down 20°

Swing angle of drill boom

Left 20°, right 50°

Swing angle of carriage

Left 35°, right 95°

Tilt angle of beam

114°

Compensation stroke

1353mm

Rotation Head stroke

4490mm

Maximum propelling force

25KN

Method of propulsion

Motor + roller chain

Depth of economical drilling

32m

Number of rods

7+1

Specifications of drilling rod

Φ76x4000mm

DTH hammer

K3,K4

Engine

YC6L310-H300 /Yuchai YC6L310-H300

Number of cylinders

6

Rated power

228KW

Rated revolving speed

2200r/min

Hydraulic pump

4* gear pump

Screw air compressor

Zhejiang Kaishan

Capacity

18m3/min

Discharge pressure

17bar

Traveling control system

Hydraulic pilot

Drilling control system

Hydraulic pilot

Anti-Jamming

Automatic electro-hydraulic anti-jamming

Voltage

24V DC

Safe cab

Meet the requirements of ROPS & FOPS

Indoor noise

Below 85dB (A)

Seat

Adjustable

Air-conditioning

Standard temperature

Entertainment

Radio
1.The pictures about ZT10 Integrated Down the hole Drill Rig for open use :
2.The detailed about ZT10 Integrated Down the hole Drill Rig for open use:
3.Spare parts for borehole drilling rig:
We are located in Zhengzhou City, Henan Province, the Central area of China with convenient transportation access.
All of our products comply with international quality standards and are greatly appreciated in a variety of different markets throughout the world.
We now have over 100 employees, an annual sales figure that exceeds USD 10 million and are currently exporting 45% of our production worldwide.
1.Production Equipment: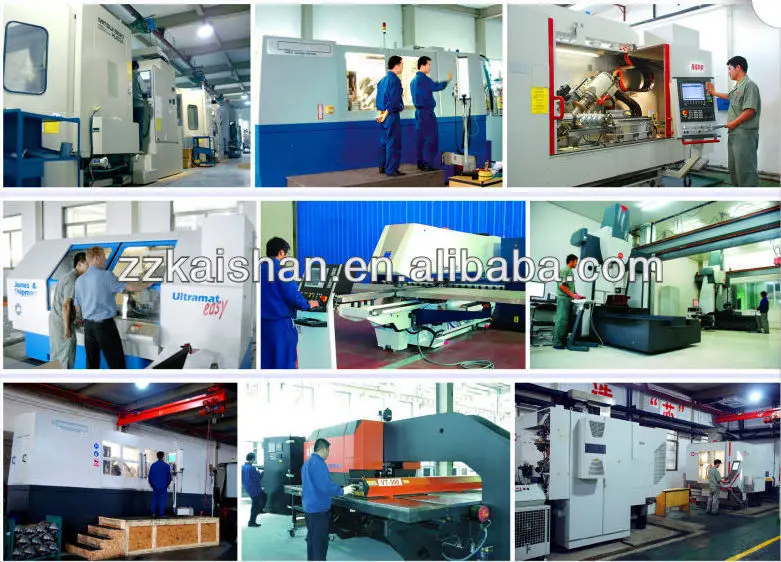 2.R&B Center and Team:
Our service:
Q1: Are you a manufacturer?
A: Yes, we are a professional down the hole drill rig and top hammer drill rig manufacturer.
Q2: What does your company produce?
A: The main products of our company include blasting drilling rig,water well drilling rig and all kinds of air
compressors.
Q3: How about your delivery time?
A: Normally the delivery time is about 7-15 days. For some special case, we can make it within 2 weeks, it depends
on different products.
Q4: What methods of payment do you accept?
A: We accept T/T, L/C.
Q5: Do you offer any deals or discounts?
A: Yes, price depends on different quantity, different quantity will give you different price.
Related Products